With wide range of products and brands from Europe, we managed to secure various projects throughout the years.
From luxury pool side or beach side, from luxury resorts or to casual dining spaces, our outdoor and indoor furniture serving many prestigious and high profile projects in hospitality industries.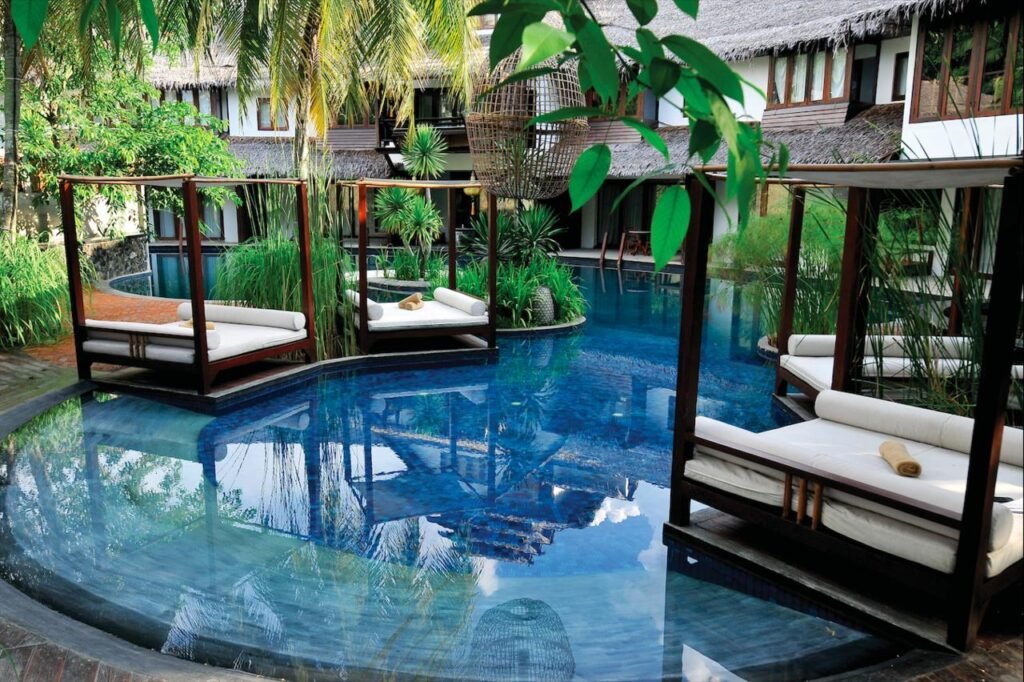 Our complete line of luxury and fashion-forward patio furnitures are well designed for both residential and commercial use. Some of the outdoor furniture pieces include chaise loungers, sunbeds, stools, poufs ,  benches, ottoman, coffee tables, outdoor sofas and lounge chairs, poolside furniture, bistro dining sets, garden benches, bar stools, wicker furniture, vases, floor lamps, patio umbrella and more…
Recent Completed Projects
The Peak Club House Cheras
Janda Baik Private Resident
Akasa Condominium Cheras South
Akasa Condominium Cheras South
Akasa Condominium Cheras South
Nobleton Crest Condominium Jalan U Thant
The Biggest Starbucks@Tropicana Garden Mall
Pinnacle Residence @ Sri Petaling
Garden Cafe @ Cardiac Vascular Sentral Kuala Lumpur (CSVKL)
Holmes 2 @ Bandar Tun Razak
Holmes 2 @ Bandar Tun Razak
The Oval Residence @ KLCC
Arvore Residence SS4 Kelana Jaya
La Juiceria Superfood Signature@Nadi-Bangsar
Platinum Splendor Residence Semarak
Platinum Splendor Residence Semarak
Green On Hills Janda Baik Bentong
Traders Garden Residences Balakong
Concerto North Kiara Condominium
K-Experience By Kyochon Pavilion
Balut Nexis Kota Damansara
Amverton Cove Golf & Island Resort Theme Park
Starbucks Langkawi Canang Mall
Sutera Residence Bukit Tunku
Zus coffee Bandar Menjalala Kepong
Flat Design Awning@Desa Angkasa Ampang Hilir
Genting Sky World Theme Park
Genting Sky World Theme Park
The Seed @ Sutera Utama Skudai
Nickelodeon Store Sunway Lagoon Theme Park
The Coffee Bean & Tea Leaf Penang
New B Restaurant & Cafe IOI Boulevard
Gamuda Garden Theme Park Rawang
Hipster Residence Taman Desa
Akoya Residence Mutiara Height
Nobleton Crest Condominium
The Alps Bar Genting Sky Avenue
Mercure Kuala Lumpur Shaw Parade Hotel
The Chicken Rice Shop Aeon Taiping
Sunway Big Box Medini Johor
Starbucks Republic Damansara Height
Anggung 3 Bandar Kinrara Club House
Vyne 3 Residence Sungai Besi
Tunamaya Beach & Spa Resort Pulau Tioman
Villea Rompin & Golf Resort
CVSKL Cardiac Vascular Sentral KL
Pavilion Embassy Kuala Lumpur
Concorde Hotel Kuala Lumpur
Saujana Golf & Country Club
Hup Seng Star Mercedes Benz Bandar Parkland
Pavilion Embassy Jalan Ampang
Amber Cove Impression City Melaka
Alstonia Residence Bandar Sungai Long
Kiara 9 Residence Mont Kiara
Manhattan Business Hotel Damansara Perdana
Trinity Pentamont Mont Kiara
The Parque Residences Eco Santuary
INNSiDE By Melia Kuala Lumpur
Thistle Port Dickson Resort
We maintain long-term relationship with our valued customers by providing high quality product and superior service. We pay attention to our customers in meeting their preferences and specifications to gain total customer satisfaction.
The Coffee Bean & Tea Leaf
Starbucks Malaysia
Gloria Jean's Coffees Malaysia
KFC
MC Donalds
Pizza Hut
Ben's The Big Group
Bangsar Village Supermarket
Berjaya Hills Bukit Tinggi
Sunway lagoon
Mid Hills Genting
Sheraton Imperial Hotel
Renaissance Hotel
Star Residence KLCC
Ceylonz Suites Bukit Ceylon
Kenwingston Sungai Besi
Royal Selangor Club
Haagen Dazs
Perodua (Perusahaan Otomobil Kedua Sdn Bhd)
Sports Toto
Lovely Lace
3 Residence, Penang
6 Capesquare Condo
7 Eleven
13 Shades C180
93° Cafe
99 Auto Body Kit Kajang
3rdNvenue Ampang
A'Famosa Resort
A&W
Absolute Thai
After 5
Akasa Cheras South
Alila 2 Penang
Alstonia Residences Bandar Sungai Long
Amari Hotel Penang
Ambank
Amber Cove Impression City Melaka
Amcorp Mall
Amiral Cove Port Dickson
Amverton Cove Golf & Island Resort Theme Park
Amverton Green Bukit Kemuning
Amverton Hills
Ancasa Hotel
Anggung 3 Bandar Kinrara Club House
Akoya Residence Mutiara Height Kajang
Aria Residence
Arvore Residence 
Aster Residence Cheras
Aurelius Hospital Nilai
Axis Crown Residence, Ampang
B. Cafe Bandar Permaisuri
Balut Nexis Kota Damansara
Bandar Serai Development (Club)
Bandar Serai, Rawang
Bangsar South Residence 2
Bangsar Village Supermarket
BASF HQ Bandar Utama
Bennington Residence Setapak
Ben's The BIG Group
Berjaya Bay Resort Maldives & Japan
Berjaya Beau Vallon Bay Resort , Seychelles, Maldives
Berjaya Hills Colmar Tropical Bukit Tinggi
Bijon Cafe
Bistrol Years 1963
Boat Noodle
Boost Juice Malaysia
BSC Finefood Bangsar
BSP 21 Condominium Selangor
Bukit Gambang Water Theme Park
Bungkus Kau Kau
Burger King
Cafe' Du Jour The Hub SS2
Cafe K K Bao Hao Chi
Cafe Wolf Book
Cage C180
Canadian Pizza
Casa del Rio Melaka
Carsome Service Center
Cerrado Southville City
Ceylonz Suites Bukit Ceylon
Chili's
Chilla Cup
Citizen Old Klang Road
CitiZen 2 Old Klang Road
Coffea Coffee
Concord Hotel KL
Concerto North Kiara Condominium
Craving
Cristal & Verde Condominium
Cristal & Verde Condominium
CU Convenience Store
D Tropic Cafe
D' Tempat Country Club Seremban
D' Western Corner
Da Fu En Vegitarian Restaurant
Dapur Nusantara
Dapur Penyet
David Brown Restaurant & Tea
Delifrance Malaysia
Desa Angkasa Ampang Hilir
DOME
Domino's Pizza
Dorsette Hotel
Eco Grandeur Puncak Alam
Eco Majestic City
Eco Sky Residence Jalan Ipoh
Eco Sky Taman Wahyu
Eennat Pharmacy
EFJC Food Court Kuchai Lama
ELSE Hotel KL
Emerald Hills Alam Damai
Eve Suite Condominium
Eve Suite Condominium, Ara Damansara
Field Of Gold Rawang
Food And Tea
Foresta Condominium – Sri Damansara
Four Season Hotel KLCC
Garden Cafe Cardiac Vascular Sentral Kuala Lumpur (CSVKL)
Gamuda Cove Water Theme Park
GD Cafe
Genting Hills Genting
Genting Sky World Theme Park
Gloria Jeans
Grand Dorsett Hotel
Grand Medini @ Johor
Grand Medini Johor
Grandmama's Pavilion
Green On Hills Janda Baik Bentong
Green Residence
Haagen Dazs
Hainan Tea
Hamphire Residence KLCC
Hana Teh Japanese Restaurant
Hang Boba Melaka
Hard Rock Cafe
Hillpark Residence Kajang
Hipster Residence
Holiday Inn
Holmes 2@ Bandar Tun Razak
Hometown Hainan Coffee
Hongkie Kopitiam
Horizon Residences, Jalan Tun Razak
Hup Seng Star Mercedes Benz Bandar Parkland
Hyatt
Idaman Residence KLCC
Ideal Vision Park Phase 2 Penang
Ikea
Imperial Grande Penang
Impiana KLCC Hotel
Istana Hotel
Ivory Residence Mutiara Height Kajang
J Hotel By Dorsette
Jadite Suite Kajang
Kanvas Soho Cyberjaya
K-Experience By Kyochon Pavilion
Kebab Penang
Kelab Shah Alam
Kenny Rogers
Kenwingston Sungai Besi
Kepong 5
KFC
Kiara 9 Residence Mont Kiara
King Ais Cream Malaysia
KK Supermart
KL Eco City Mercu 3
KL Hilton Hotel
KL Traders Gombak
KLCC
Koi Bubble Tea
KOI Prima Puchong
Kota Permai Golf Club Resort
KPJ Damansara Hospital 2
Kukus Stem Habis
La Boheme Bakery
La Juiceria Superfood Signature@ Nadi Bangsar
Latin Tropical Yoko's Tapas Bar & Restaurant
Lexa Residence
Lido Condominium – Jln Cheras
Lone Pine Hotel
Lot 15 SJCC Subang Jaya
Lovely Lace
Lucentia Residence BBCC
Lukut Resort
Magazines.com
Mahkota Hotel
Manhatten Hotel
Marketplatz Kota Kemuning
Marrybrown
MC Donalds
Melaka Wonderland
Melia Hotel Eko Cheras
Mercure Kuala Lumpur Shaw Parade Hotel
Micasa Hotel
Michael John Cafe
Midhill Genting
Mines Wellness Hotel
Monrods Kitchen
MOK Spare Parts & Accessories
Movenpick Hotel & Resorts KLIA
Mutiara Condominium KL
My Viets Vietnamese Cuisine
Mynews
Nana Thai Food Puchong
Nan Cheng Kopitiam
New B Restaurant & Cafe IOI Boulevard Puchong
New World Hotel
New Zealand Natural
Nickelodeon Store Sunway Lagoon Theme Park
Nilai Spring Resort
Nippon Sushi
Nobleton Crest Condominium Jln U Thant
Noodle Station
Novum Bangsar South
Nyonya Kopitiam
O'Briens
Oktopurs Fish Market
Olive Tree Restaurant
One Jelatek Residence
One World Hotel
Oppadak Malaysia
Orange Club Penang
Oval Residence KLCC
Pacific Regency
Pantai Hospital
PapaRich Malaysia
Parc3 Cheras
Park Royal Hotel
Pasar Segar Siti
Pavilion Embassy Jalan Ampang
Pelangi Condominium Bangsar
Periuk Belaga
Perdana View Boutique Service Residence
Perla Residences 
Perodua
Petaiz Residence
Piano Restaurant & Bar
Pinnacle Residence Sri Petaling
Pizza Hut
Pizza Plus
P. Lal Store, PJ
Platinum Splendor Residence Semarak
Polis Station Daerah Nilai Negeri Sembilan
Polo Club
Project B
Publika Journal
Pullman KLCC Hotel
Pullman KLCC Hotel & Residencesl
Puteri Cove Residences Johor
PV2 Platinum Hill Condo Taman Melati
PV18 Residences Setapak
Rebak Island Resort Langkawi
Red Card Cafe
Red Hotel
Renaissance Hotel
Resorts World Langkawi
Restaurant Ahh-Yam Wangsa Walk
Restoran Jin Xuan Hong Kong Sdn Bhd Uptown DU
Restoran Nothing Fancy OUG
Restoran TKC Roast
Restoran Wan Long Johor
Restoran Yan Wo
Riana Dutamas
Riana Green East Condo Wangsa Maju
Route Cafe 66 Seri Petaling
Royal Lake Club KL
Royal Selangor Club
Royal Selangor Pavillion
RSM Bistro Jade Hill
SALA Plantbased Vegan Restaurant
Saujana Golf & Country Club Petaling Jaya
Season Garden Residence KL
Sefina Mont Kiara
Segafredo Coffee
Senada Residence
Seng Kee Chicken Rice
Seri Pacific Hotel
Setia Triangle – Penang
SGV Vacation Club Timurbay Seafront Residence
Shabu-Yo BBCC KL
Shell Malaysia
Sheraton Imperial Hotel
Silk Condominium – Balakong Cheras
Simfoni Balakong
Sinaran Residence Wangsa Maju
Sky Lake Residence
Skyworld Setapak
Sky Ville Penang
Sofitel Hotel
Spectrum Axis Sdn Bhd
Sports Toto
Sri Carcosa Clubhouse
Star Residence KLCC
Starbucks
Subway
Sucasa Hotel
Suite Enesta Kepong
Summer Suite 8 , Jln Sultan Ismail
Sunway Big Box Medini Johor
Sunway Clio Hotel
Sunway Hotel Penang
Sunway Lagoon
Sunway Lost World Water Park, Ipoh
Sunway Mont Kiara
Sunway Putra Hotel
Sunway Resort Hotel Sdn Bhd
Sumway Tambun Ipoh
Sunway Velocity Cheras
Super Kitchen
Sutera Residence Bukit Tunku
Swensen's
Swiss Garden Hotel
Swiss Majestic Hotel
Swiss Vacation Resort
Texas Chicken
TGI Friday
TGO Auto Shah Alam
The Alps Bar Genting Sky Avenue
The Chateau Bukit Tinggi
The Chicken Rice Shop
The Coffee Bean & Tea Leaf
The Cruise Residence Puchong
The Delle Coffee & Tea
 The Laughing Fish By Harry Ramsden @ Genting Sky Avenue
The LINC, Jalan Tun Razak
The loft Seremban
The Peak Club House Cheras
The Quarza Residence Melati
The Straits Hotel
The Taara Beach & Spa Resort Redang
The Seed Sutera Utam Skudai
The Weld
Thistle Hotel Port Dickson
Thistle Hotel Port Dickson
Three 33 Residence Kepong
Time Square
TMC Bangsar
Tmn Equine Residence
Tony Roma's
TPC KL
Trader Hotel
Traders Garden Residences Balakong
Treat Cafe
Trinity Pentamont Mont Kiara
Tropicana Aman 1 Apartment
True Fitness
TSL Jewellery
Tunamaya Beach & Spa Resort Pulau Tioman
Tutti Fruity
UEM, KL SENTRAL
Unio Residence Kepong
VEO KL East
Villa Putra Puteri Residence Ampang Hilir
Villa Samadhi
Villea Rompin Resort & Golf Pahang
Vyne 3 Residence Sungai Besi
W Hotel
Wangsa 9 Wangsa Maju
Wendy Cake House
Wendy's Malaysia
Wetzel Pretzels
Wonderful Cake House
Yang Fruits
You City Cheras
Yuan's Hainanese & Western
Zefer Hill Residences, Puchong
Zus Coffee Malaysia